IKAM Research Fellowship Program -Call for Applications-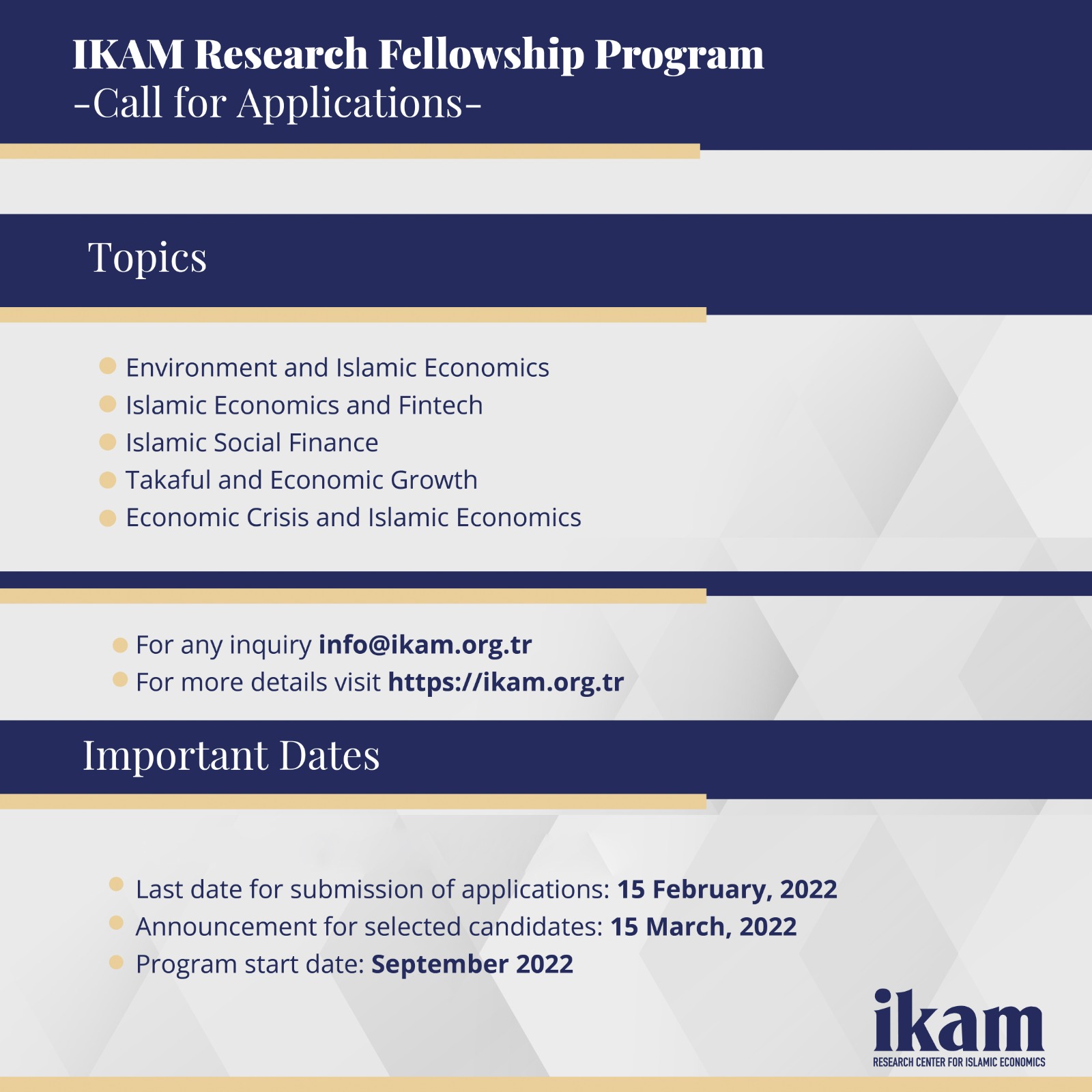 09 December 2021
Research Center for Islamic Economics (IKAM) is a research center operating under Foundation for Science Culture and Education (İLKE). It was established in 2016 with the purpose of providing a resource-rich environment to academia for research in Islamic economics. IKAM has successfully progressed as a center of excellence in the scientific discipline of Islamic economics and finance, through quality research, and the development of pragmatic monetary and fiscal policies. IKAM offers regular education, and research, training, and development activities to students and researchers, in order to build a qualified human resource for the development of a healthy Islamic economics and finance sector around the globe.
Under its aim of developing a qualified human resource for Islamic economics and finance, IKAM is pleased to announce its Islamic Economics Research Fellowship Program for the year 2022 (September).
About Fellowship
IKAM Research Fellowships will be awarded to post-doctorate researchers for a period of 12 months. The prospective researchers will be hosted at IKAM where they will complete their research projects.
Qualifications required from the applicants include a strong commitment to scholarly research with international impact. We are particularly seeking independent, self-motivated, and enthusiastic candidates who can contribute to the research conducted in IKAM. Candidates should hold a Ph.D. degree in the field(s) of Economics/Finance/Islamic economics and Islamic banking & finance. Applicants from all countries except Turkey are eligible to apply. The contract will be signed with successful candidates for a period of 12 months and will be non-renewable.
Research Topics & Outcomes
Fellowships for the year 2022 are available for projects that would fall under the following (or related) themes:
1. Environment and Islamic Economics
2. Islamic Economics and Fintech
3. Islamic Social Finance
4. Takaful and Economic Growth
5. Economic Crisis and Islamic Economics
Selected candidates will be expected to conduct full time research at IKAM on individual projects falling under the aforementioned themes. Furthermore, each candidate shall submit two policy briefs and a detailed research report on the project they work on. Fulfill all tasks related to the project that will be assigned to them by İKAM.
Stipend
The successful candidates will be offered an opportunity to undertake their research projects at IKAM along with a monthly stipend amounting Four Thousand Turkish Liras (4,000 TL) for a period of one year. Selected candidates will be responsible for their accommodation. İKAM will provide academic assistance to them.
Applications
Equal opportunities policy is applied and applications from all countries are encouraged. The completed applications should be sent to info@ikam.org.tr and must include the following:
i. The title of the research project that the applicant intends to undertake at IKAM. The topic must fall under one of the aforementioned themes for which the fellowship is being offered.
ii. Research Proposal for the project to be carried out during the stay at IKAM (3000 words maximum).
iii. Resume of the applicant
iv. List of applicant's publications
v. Two letters of recommendation along with their contact details
The last date for submission of applications is 15.02.2022. Applications received beyond this date will not be considered. Each application will be evaluated by multiple members from IKAM. Applicants may be invited for an online interview after the preliminary stage of evaluation of applications. The names of successful candidates will be announced by IKAM on 15.03.2022.
Click for the PDF document.